Case Study
Elegant Victorian Terrace House
London
This beautiful bathroom is an integral part of Jennifer Morris' Victorian terrace house in London. We find that our designs resonate superbly with this retro and elegant decor. This room is also a great example of how to cater to the reality of space limitations in London.
It features a very elegant and timeless tiled chequerboard floor, which reminds us of the traditional designs of the 19th century. The tiles are slightly bigger than at the Victorian times, to create the illusion of a bigger space: the bigger the tiles are, the bigger the room will appear. The play on black and white tones brings a moody element to the bathroom.
This monochrome scheme showcases the brass finish of Drummonds' pieces: the live finish, which naturally ages with time, goes hand in hand with the vintage elegance of the tiles. The black and white tones, combined with the golden touches, create a very chic aesthetic.
The black and white flooring is replicated in the walk-in shower for a seamless work : in this way, the space is not cluttered, making it seem bigger than it is.
Concerning the walls, white was an obvious choice to create the impression of a bigger space. The tiles were laid in a grid pattern, a slightly different take to the classic subway tiles, which give the room a graphic feel. The layout is simple so that the eye is not distracted from other design features.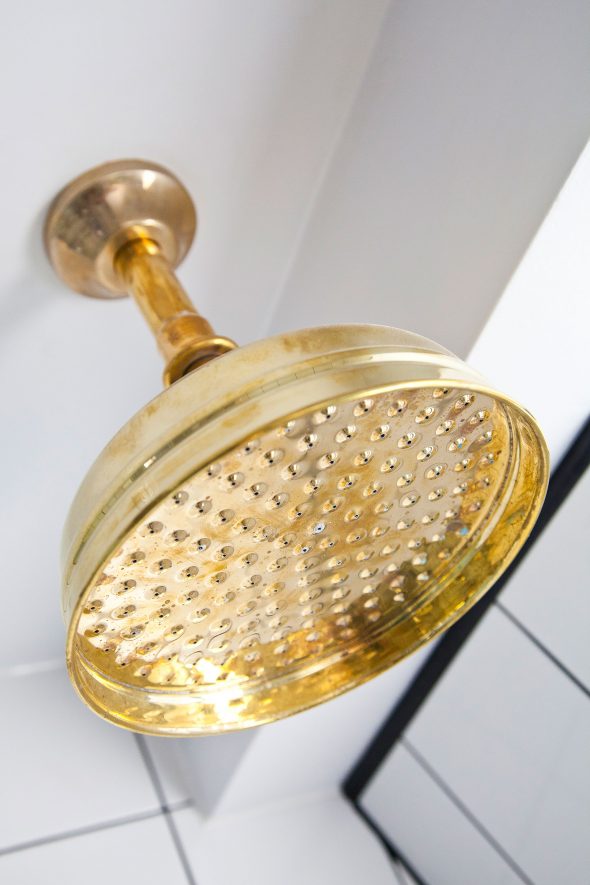 The geometric pattern is reinforced by thin black borders and grout. This detail does not only outline the tiles for a decidedly modern twist but it also anchors the black notes in the floor tiles. What's more, it confers the room a clean and neat finish and underlines its Zen-like simplicity. Let's not forget that a bathroom serves as a washing space but it's also a sanctuary to relax. The indoor plants emphasize this vibe.
Our luxury shower products are made by our expert craftsmen to ensure the highest quality. Indeed, they are hand carved in wax prior to casting to enable the exact reproduction of fine detailing. This shower rose, which is one of our bestsellers, is a classic timeless design. Its brass finish pops out superbly against the graphic background. It features a ball joint attachment to reduce limescale build up.
The Mull Classic Thermostatic Shower Valve, alongside the complementary On/Off Shower Control, are defined by a distinct, classic design which composes an elegant shower space.
Let's now focus on the basin featuring our Mull Classic 3 Hole Basin Mixer, created in our own foundry using traditional wax moulding method for a truly unique finish. This yet again classic and elegant design is hand polished to the highest quality.
This traditional single arm loo roll holder, also created in brass, is designed with both aestheticism and practicality in mind.
Interior photography : Lizzie Barry