Colourful Lower Farmhouse
By Ana Engelhorn
This Grade II listed property in Surrey provides a fascinating case study in the power of colour. First restored in 1907, and infrequently renovated over the years, the house was in need of an extensive revamp. Ana Engelhorn, an interior designer whose specialty lies in creating 'perfectly imperfect' interiors, was the perfect choice to renovate and refurbish the property.
In order to preserve the property's unique heritage and beauty, Ana embraced the traditional architectural features of the house whilst simultaneously adding eclectic and contemporary twists, creating a perfect balance between the old and the new.
She worked alongside bespoke British brands such as Francesca's Paints, who's strong bold colour collection helped to achieve the perfect tone in each room.
Each bathroom in the house has a distinct look and feel and draws on different design aesthetics, ranging from elegant retro to industrial chic. Drummonds was the obvious choice for the property's bathroom ware –versatile and customisable, their timeless, classic designs suit the property's heritage, as well as the owner's tastes.
With an industrial chic vibe, the master bathroom features our freestanding Medway shower, Hammered Copper Usk & Double Thames vanity in an antique brass finish. Commanding a central position, the Copper Usk brightens the room, and stands out against the decorative tiled mural backdrop.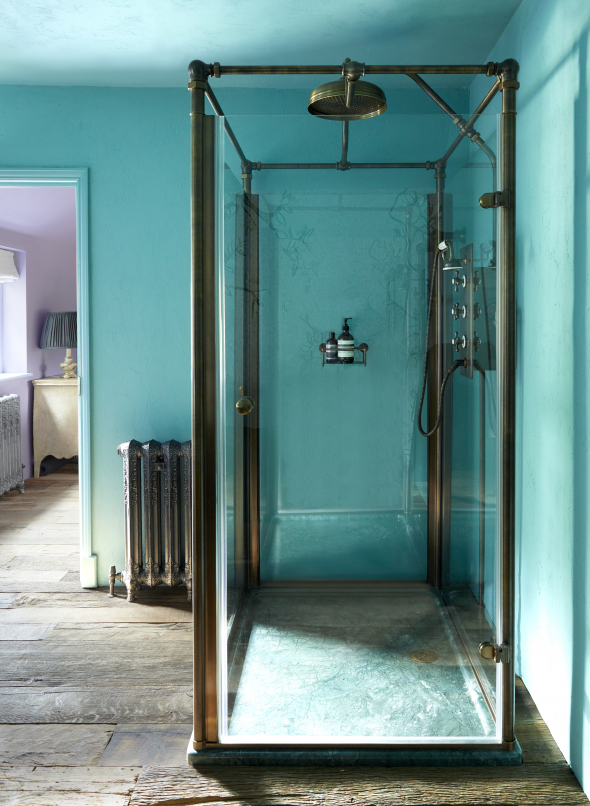 In the guest bathroom, an understated retro feel is achieved with quirky furnishings and an evocative colour scheme – light, lavender blue walls and a pale sherbet yellow Bute bath bring a soft sophistication, while the stylish, vintage artwork showcases a more playful side.
Finally, our Double Buttermere china vanity, with gleaming brass taps and mirrors provide a bold contrast to the feminine pink colour scheme of the second guest bathroom. Chosen to make a statement, our Swale bath with a deep blue painted finish brings drama and character to the space.