The freestanding bathtub has seen a growing trend in popularity over the past 5 years as a result of a preference for classic designs, however, recently the built in bath is also seeing a resurgence due to it's practicality and aesthetic. But which option is the best choice for your bathroom? This guide will help you to not only decide which style suits you but also what is the most practical option for your bathroom design.
A Case For The Built In Bath
A built-in bath allows you to add a touch of glamour to your tub through the inclusion of an eye-catching marble or tiled surround. To truly enjoy the beauty of these baths you'll require space. One of the real advantages of the built-in tub is that the surround acts as storage, seating and the mounting space for taps, spouts and hand showers so the more room you have the better. Many people also see a built-in tub as an additional showering space as water is more likely to be caught by the surround rather than splashing onto the floor.
When it comes to more compact spaces, whilst it is possible to put an undermounted bath tub into a small alcove, this does reduce the benefits of having a large surround to place products and mount taps. Also worth considering is that any built-in tub under 1700mm runs the risk of compromising the bathing experience. It is crucial to measure and plan your space to truly understand whether you can work with a built-in bath. We also offer the option of an overmounted bath, when the tub does not have a marble or tiled top such as our Baby Lomond. Whilst there is little to no option of using the surround meaning all the taps and shower diverters will have to be wall mounted, these are great for smaller spaces if you still prefer the look of the built-in bath.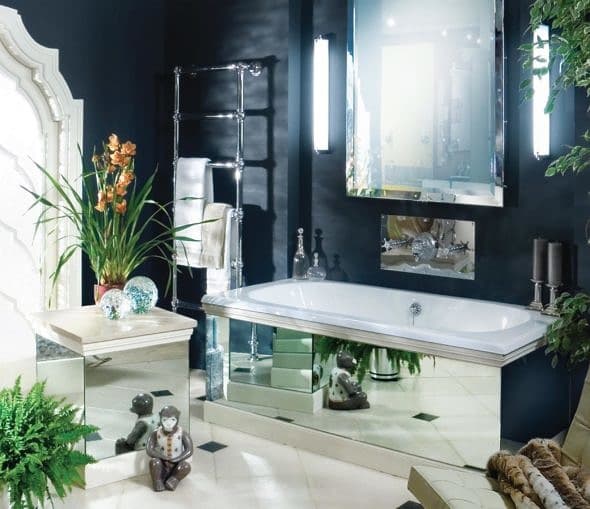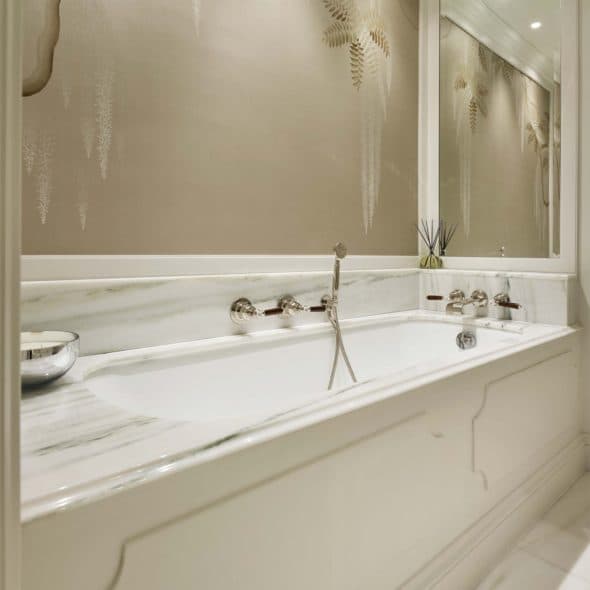 A Case For The Freestanding Bath
A freestanding tub is a real opportunity to use your space to the best of it's ability. Eliminating the restrictions imposed by room size, freestanding baths can be placed anywhere you choose, the middle of the room, the end of the bed or wherever your imagination can think of. Unlike the built-in baths, a 1700mm long freestanding tub has a far more generous interior but for what it makes up in bathing experience it inevitably loses in storage space and seating. This can be easily rectified, however, with some forward planning and the inclusion of wall mounted or freestanding storage and taps. One of our most inspiring clients likes to use vintage trunks positioned by the tub for placing products or wine glasses on.
Whichever bath style you choose, whether it's bateau, single ended or slipper a freestanding tub is usually only for bathing. You can place a shower over a freestanding tub but only with the use of a wet room floor and shower curtain. Whilst not ideal, these features give you the opportunity to get creative with texture and colour, elements which can sometimes be difficult to include in bathroom design. For smaller spaces a freestanding bath will no doubt give you a better bathing experience.
Whatever your choice, always keep in mind what you are using your tub for. If your tub is only for bathing and you have a compact space, freestanding will give you more options without compromising bathing experience. If space is not an issue or if you want to add a shower over the tub, a built-in bath would be the one to go for.
Discover our complete range of built-in and freestanding baths here.
Drummonds Design Diary by Senior Designer Tommy Bendall