24 Aug - Interviews
Interview |
A Talk With Interior Designer Susie Atkinson
Susie Atkinson draws on over 20 years experience to create influential interiors and exquisitely crafted furniture, lighting and accessories, and sources carefully selected timeless pieces and antiques.
Recognising the importance of how a space will be used and that the architecture is only ever enhanced by a considered interior finish, Susie's designs eschew the 'fashionable' to bring a room to life with exquisite colours, contrasting textures, surprising and delightful pieces of furniture or a favourite family heirloom.
She builds on these elements in a design process that is about the balance of texture – she has a passion for natural fabrics such as heavy linens, hemp, silks, velvets, cashmere, wool – and mixing these with different textured surfaces such as wood, zinc or granite. Her timeless interiors can be found in private country houses, London town houses, boutique hotels, clubs, restaurants and spas.
Talk us through your design process
The light is always a key factor for me when beginning to design a space, which direction a room faces affects how a room actually feels.  I then  visualise the furniture layout and imagine how to create a welcoming vibe by bringing different finishes and materials together which appeal to the senses, how something feels, smells is as important to me as how it looks – so the focus is very much on natural materials, woods, marble, stone, wool, linen, leather, the combination and right balance of these things is an essential part of my design process.
What's your earliest memory of being creative?
I was given a small fabric 'wendy house' when i was about 6 years old, I remember the excitement of placing all my favourite things inside to make a mini home!
When it comes to your design approach, you seem particularly attached to your English roots. What would you say is so special about English interior design?
I have always liked English furniture, and had a fascination with great English country houses;  for example the history and different styles that you see from one village to the next.   The fact that these have passed, and will continue to pass, through many generations is unique and I love seeing how houses are re-worked to meet today's needs but still retain the original character or archticture.  I am fascinated by the Arts & Crafts period and the focus on bespoke things. I also love the English countryside and plants and how this has influenced fabric designers – floral or botanical fabrics I am also drawn to.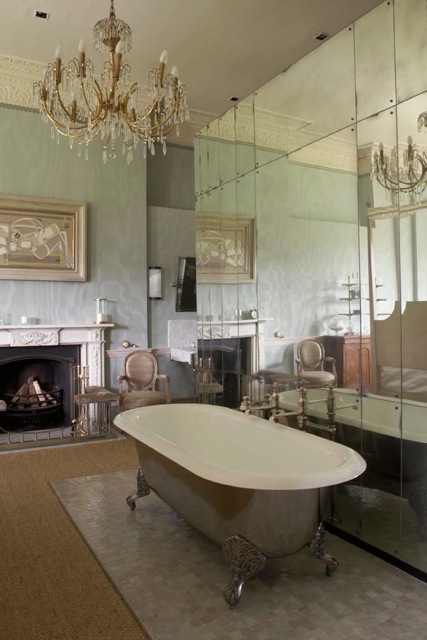 How influential has London been on your work? Are there any specific places which inspire you?
London has it all for me and inspires me on a daily basis – be it the streets and rows of houses, different architecture, the museums, theatres, restaurants, the restoration of many old buildings – the inspiring new ones that spring up and give new life to an area.  There is always something to see, and most of all there is a the vibrancy that never fails to give me a buzz – how lucky are we to live in such a multi-cultural city where we can continue to learn and understand different ways of living, eating and working from those around us!
When designing a bathroom, what is the most important factor for you?
That it does not feel cold even though there are many cool surfaces in bathrooms – so colours and accessories are important to get right!
What advice would you give a young interior designer?
I think it is important to have as broad a knowledge as possible, so perhaps, rather than focusing only on the more obvious things such as space planning, furniture layouts, electrical layouts etc which are clearly very important – also read and learn as much as you can about architecture, furniture designers past and present, the craftsmanship of how things are made, traditional methods of upholstery, dyeing processes, how colours are affected by light – the list could go on and on! I think my point is that there are so many aspects to interior design that the more you research, the more you understand where your passions lie, and this will inform your style and approach as you become a successful designer!