Case Study
Georgian Country House | Charming Suite, Reading
by Vanessa Van Reyk
Designed by Vanessa Van Reyk, this amazing en-suite master bathroom case study was published in the July 2018 issue of House & Garden. It occupies a light-flooded corner of what appears to be a Georgian mansion but is in fact a new-build. Mixing classical proportions with classic architectural features with warm colours and textures, this bathroom is certainly welcoming and full of charming accents. "An en-suite should ideally feel like a living space in its own right," says Vanessa.
Vanessa Van Reyk has created an elegant en-suite that remains true to the striking and luxurious decoration and architecture of this Palladian-style Georgian mansion. The success of the design by sourcing our bathroomware pieces: "Drummonds was the perfect choice to use throughout the bathroom as its designs and shapes are classic, simple, elegant and timeless," explains Vanessa. Refined and authentic, our pieces lend presence to this period setting. From the panelling to the flooring, every detail has been carefully observed, to create a space looking, as the designer says, "like a striking alteration rather than a completely new design". Adjoining the bedroom, this bathroom continues the warm, historically appropriate decoration scheme with its newly-added coving and panelling.
The centerpiece of the room is the imposing Wye cast iron bath with its polished metal exterior. The WC and shower are tucked discreetly out of sight , effectively hidden for privacy and to create a relaxing bathing space. This tub has been designed as a longer, wider, deeper version of the classic 18th century Bateau style, which is high sided to retain heat and a grand classical symmetry. It is thus a more practical and comfortable option for bathing. Some details have been introducing to flatter the bath in case of low luminosity. Indeed, as well as downlights, there are very subtle uplighters by the bath, the rims of which are colour-coded so they are hidden in the wood floor.
This silver metal theme is echoed in the tall towel radiator, the mirror and the brassware, all in chrome finish, from the taps and showerhead to the legs of the magnificent Lowther double vanity basin, Our largest basin unit with Deep and spacious tops. It's underlined by two large vintage-style Derwent Mirrors designed by Martin Brudnizki for Dummonds.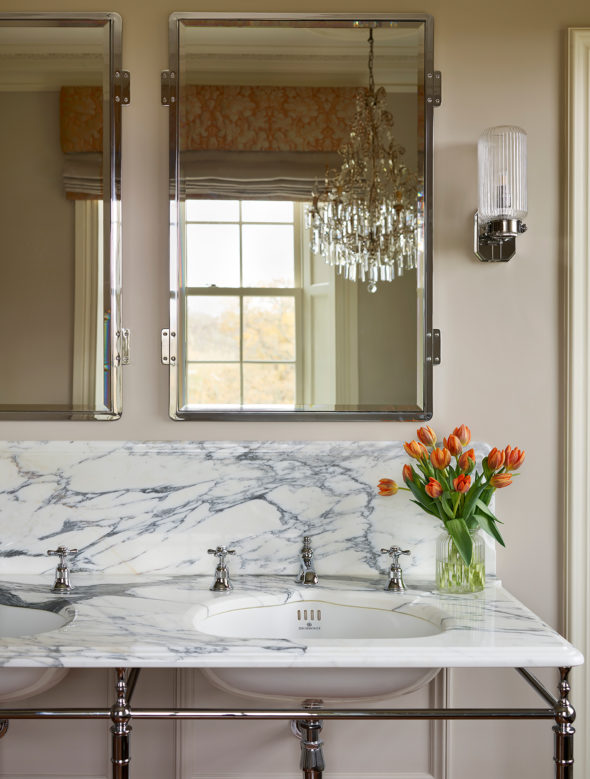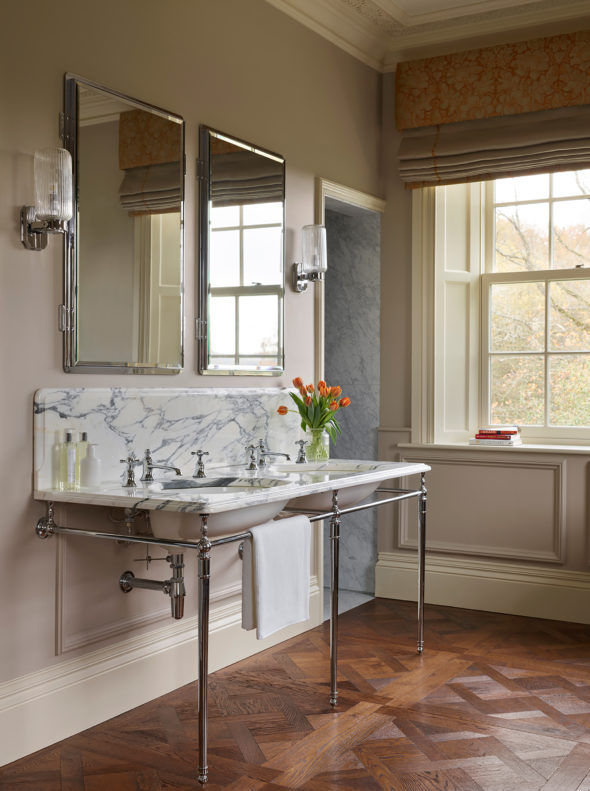 The mirrors, framed by lights with fluted shades, create space and add light, while a glamorous antique chandelier completes the bold look. Arabescato marble and handblown glass light fittings form yet more visual bridges between period and contemporary style.
The whole design is intertwined with high-quality materials. Pelmets made from historical French Tassinari & Chatel fabric are outline quilted, the hint of rust in the fabric providing a gorgeous contrast with the Arabescato marble of the vanity basin. All in all, this very inviting bathroom scene champions design successes of the past in a charming and contemporary way.