11 May - Inspiration
Opting for Brushed Nickel
Standard finishes are giving way to antique finishes but also to brushed metals such as brushed nickel. This finish is a good alternative to chrome – it's softer, warmer and less shiny – and it's lighter than antique nickel.
What is Brushed Nickel?
It's characterised by a nickel plating on brass, which has been brushed by hand in unity to take most of the natural shine off the metal and to create a more matte and discreet effect. Like antique nickel, what differentiates brushed nickel from other finishes is its texture: the brush marks on the brass constitute thousands of tiny parallel ridges resembling fingerprints – all going in the same direction – for a subtle grain. Let's not forget that this is a 'live' finish, which implies it will age naturally with time and develop a unique beauty.
Why we love it
-It's perfect for those looking for a warm finish at the crossroads between brass and chrome or, most simply said, between gold and silver. Indeed, when associated to brass, nickel plating reveals a golden sheen that standard chrome plating does not.
– It's also ideal for those looking for something less eye-catching than shiny chrome and brass.  Its textured appearance brings more depth and character to the metal. Brushing gives metal a distinctive look.
– Like all the 'live' finishes, it will age to a natural patina and develop its own individual appearance.
– It is easy to maintain. Thus a good choice for family bathrooms.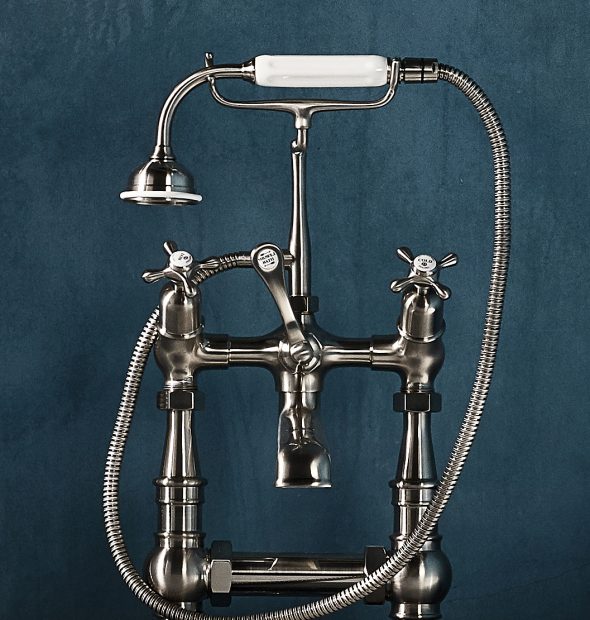 Design tips
– Like a neutral, it can be easily associated to other colours.
– It matches superbly with moody colour pallets.
How to maintain
We recommend you clean this finish with a damp cloth and to dry it with a soft dry cloth. Beware of the use of Brasso on brassware in general: it can clean up the object towards a more polished brass finish and therefore affect the brushed feel. We would therefore advise against this.