07 Jul - Interviews
Artist & Creator Joanne Bowles
We are excited to reveal we are currently working with the talented artist Joanne Bowles, who has created a couple of remarkable light shades for our Dalby and Chessleton wall light collection as part of her series 'The Buried Object'. Recently graduated from The Royal College of Art with an MA in Jewellery and Metal, Joanne is fascinated by the archaeology of buried artefacts, changing over time and becoming encrusted with a pattern. The two new lamp shades are individually made in silver and copper; layering techniques and materials to create unique pieces.
The making of the shades starts with Joanne forming and soldering copper sheet into cylinders. These are painted with a design and electroformed, building a raised pattern. The black shade is later treated with a patination solution to turn the copper a deep, enduring black. The silver shade is silver plated and then rubbed back to reveal the copper underneath. Finally, both versions are finished with wax, to preserve the colour of the metal.
We're so excited for this collaboration. How long does the creation process for a new product take?
Yes, it's wonderful to be working with Drummonds! It can take a long time to develop a new product, as there are so many things to consider. The design is one part and then making the prototypes is the next stage. When it is the first sample it can take longer as everything needs to be ironed out before you decide on the final product. So I would say these lights have been under way for almost a year before they are ready to be shown to the world!
 What was your inspiration behind the lamp shades?
These designs are inspired by archaeology and the idea of finding a buried object changing over time and becoming encrusted with patterns. I am interested in surfaces and how organic patterns build up over time.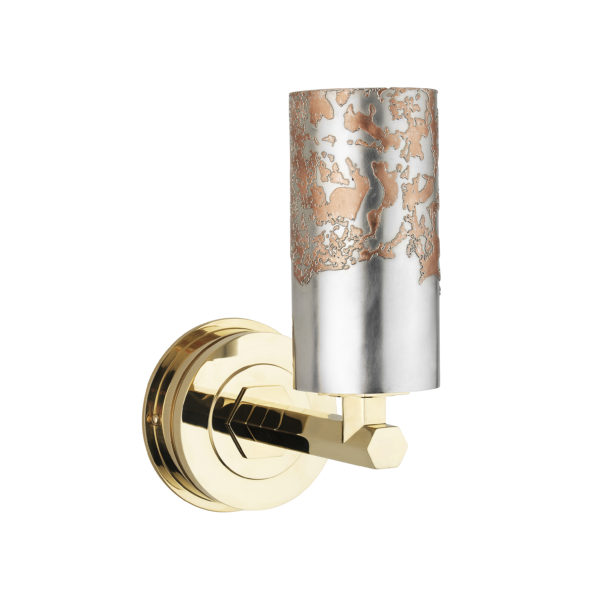 How does working with lighting change what you're creating?
It changes the design process, as I have to think of practical issues such as how the piece will hang and also how it will look amongst the other ranges in the shop. But at the same time I have been able to be very free with the design so I am able to experiment in the same way I usually do.
The collection includes a lighter and darker shade, was this intentional?
Yes, I like to create contrasts within my work and explore colour and pattern. I wanted to create shades so that the customer can choose their own style within the rang.
Do you feel the need to work trends into your pieces?
I stay aware of trends and make sure my work is relevant but I do not feel I need to work in trends directly as my work has a personal aesthetic and I want my pieces to be timeless.
What kind of processes do you use to create the shades?
I hand make each shade from copper sheet which I form and solder into the cylinders. The surfaces are then painted with the pattern you see, which are then electroformed. This is a process whereby metal builds up onto the surface of the copper creating the raised pattern. After they are cleaned up, I then use a patination solution to turn the copper into the lovely deep black that is then wax coated to ensure the surface stays as it is. The silver shades are silver plated and then rubbed back to reveal the copper underneath and are then also wax coated for the final finish. It's quite a long process to make each shade and each one will have a unique finish as the patterns are painted on by hand.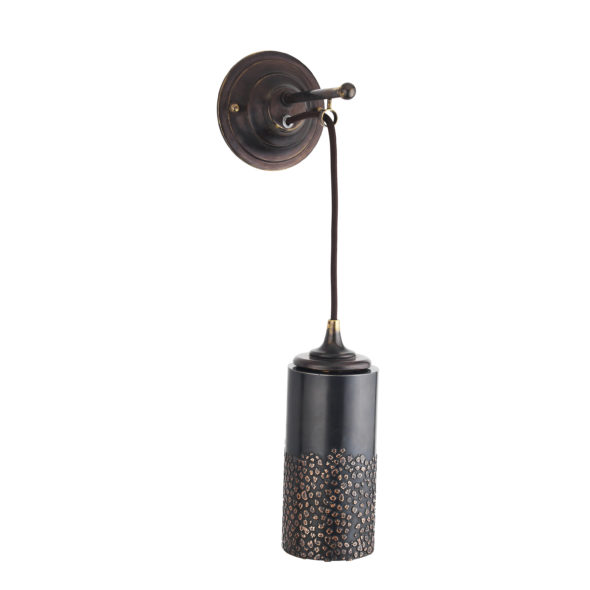 How would you style your lights in your home?
These lights would look amazing hanging either side of a large round mirror in the bathroom as down lighting.  I would pair the black and copper shades with a beautiful white marble surface and other copper fittings. The silver and copper shades would look really elegant in a white schemed room with accents of colour.
Describe your interior style in 3 words?
Colourful
Eclectic
Personal
What's next for you?
I am currently working on a range of jewellery that relates to my products using similar techniques and inspiration. I like to keep my ideas fresh and have new challenges within my work.
If you would like to see more of Joannes work head over to her website.